dnota is committed to R+D+i and, in this sense, develops projects and promotes new applied technologies that significantly improve the service it offers. Developing R&D&I activities makes it possible to reduce project and process management and production costs.
dnota's line of R&D&I projects includes different types of activities, both related to the research of industrial processes and their interaction with the environment, as well as the experimental development of innovative tools and techniques for the analysis and control of environmental parameters.
dnota has been awarded the Innovative SME Seal by the Ministry of Science and Innovation, as a result of its constant R&D&I activity. This seal reflects dnota's strong commitment to research, technological development and innovation.
The Innovative SME Seal allows the company to gain greater competitiveness in the sector and offer its customers a higher quality service.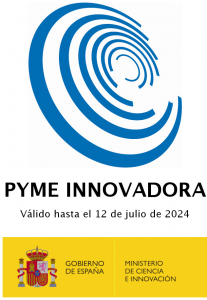 dnota is managing 1 Innovation project , approved during the year 2022, by the CDTI-CENTER FOR INDUSTRIAL TECHNOLOGICAL DEVELOPMENT, E.P.E..


Research and development of intelligent systems for data and equipment analysis in air quality stations.
The total amount of the Project Budget, which includes all expenses, taxes, fees and charges of any nature that this may cause, has been set at SIX HUNDRED SIXTY SIX THOUSAND SIX HUNDRED EIGHT HUNDRED AND FIFTY EUROS (666,850.00 €).
The main objective is the development of technological solutions that allow predictive studies on environmental data and the operation of Air Quality stations equipment, as well as the research and development of algorithms and intelligent systems for the analysis of data obtained from environmental monitoring stations.