Our Calibration Laboratory is accredited by ENAC according to the UNE-EN ISO/IEC 17025 Standard for calibrations in the chemical (gas concentration) and flow (gas flow) areas.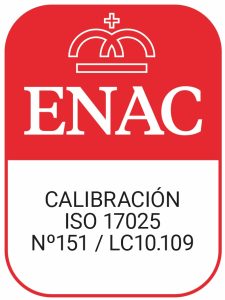 Our main field of work is Air Quality. We are focused on the service of Air Quality measurement networks and, logically, subject to the applicable regulations. Our calibrations are adapted to these standards (UNE-EN 12341, 14211, 14212, 14625, 14626, 14662, 14907 or 16450, among others).
In the chemical area, we are focused on the calibration of pollutant gas analyzers, having accredited the main ones (Nitrogen Oxides, Sulfur Dioxide, Carbon Monoxide, Ozone and Benzene). Calibration service is offered to our customers both in our facilities and on site. It is always preferable to calibrate in our laboratory, where we have more resources, both technical and human, to obtain better results, but our mobile calibration unit allows us to perform complete calibrations of measurement networks as well as individual calibrations anywhere in the country. In addition, we perform calibrations according to standards, adding to our calibration certificates what they prescribe (out-of-fit tests, linearity study, detection limit, etc.). We adapt to your needs, put us to the test!
In the flow area, we can calibrate gas flowmeters only, of various types and in ranges up to 600 lpm, both in suction and discharge. We can calibrate, as in the chemical area, most of the flowmeters currently required in the industry: mass flow controllers, venturi flow meters, critical orifices or rotameters. Equipment such as dilution calibrators, automatic particulate monitors or samplers (manual or automatic) of high/low volume can be properly calibrated according to the requirements of the application standards and as in the chemical area, we can do it in our laboratory or on site.