dnota bets on international growth and installs bettair nodes in Canada
To monitor air quality in #Canada, dnota installs bettair nodes in Canada, in the Val d'Or and Rouyn-Noranda areas. This initiative has been possible thanks to the collaboration of H2Lab. The Val d'Or area in Canada is known for being an #industrial region dedicated to the exploitation of #minerals, especially #gold. Rouyn-Noranda is also a mining town located in the Abitibi-Témiscamingue region of #Quebec and is famous for its active and abandoned gold mines. The town was founded in 1920, thanks to the discovery of gold and currently has several operating mines. The area surrounding Rouyn-Noranda is rich in #forests and #lakes, making it an excellent destination for outdoor activities such as hiking, fishing and canoeing.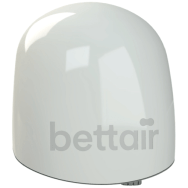 Quebec to move 200 homes away from the Horne smelter in Rouyn-Noranda
Last March 15, news broke of the relocation of some 200 homes away from the Horne smelter in Rouyn-Noranda, north of the Notre-Dame district. The Quebec government plans to spend $85 million on the relocation. The reason would be that Glencore, a copper smelter. That function would be responsible for the demolition of some 80 buildings to create a new buffer zone around the factory, which produces arsenic fumes and other pollutants.
The province will use the occasion to present the smelter's next pollutant emissions targets, which are expected to reach a maximum arsenic emissions limit of 15 nanograms (ng) per cubic meter (m3) within five years. But the company will also have to adopt a long-term plan to reach the provincial standard of three ng/m3.

Advantages of installing Bettair node
The main objectives of installing Bettair Cities devices would be:
#Monitor #air #quality in #real #time to identify and quantify #pollution levels.
Generate accurate information on air quality in both #cities, which would allow authorities and the population to take measures to reduce pollution levels.
Contribute to raising public awareness of air quality and its effects on #health and #environment.
Establish a historical database to analyze the #evolution of #air #quality over time and compare it with other places and cities.
Identify #pollution hotspots or areas that require special attention and specific measures to reduce pollutant emissions.
dnota's strategy is to help control the quality of the air you breathe.
dnota cares about air quality and this involves being aware of the levels of pollution present in the #atmosphere and helping to minimize the #human impact on the #environment. In this way, we advise different agencies on the implementation of policies and regulations that reduce emissions of #pollutant gases, as well as the promotion of more #environmentally friendly practices in #industry and #everydaylife. Good air quality is essential for the health of humans and the environment in general.
dnota helps to control the air you breathe and you can see our entire catalog of products and services on our website, as well as in our corporate video.
About dnota
In short, dnota and Artificial Intelligence can help reduce #pollution by enabling better resource management, increasing efficiency and reducing waste.
More information on how dnota can help control the air we breathe on our website www.dnota.com and you can see all our products and services.
We also have our #videocorporate video with dnota's vision of how to control the air we breathe.